North Miami Dentist – Bringing life to your smile
Trusted Family Dentist in North Miami, FL
We believe that when we look our best, we feel our best. Our experienced and caring North Miami Dentists will help you achieve your dream smile and optimum oral health with our advanced technologies, materials and procedures
Patient Care is #1
We Make It Personal.
Using the most recent technology in addition to years of expertise, Beach Smile Family medical specialty has apace evolved into one amongst the premier Dentists in North Miami, FL. Together, our doctors and employees ar committed to establishing a private relationship with our patients and providing the very best quality care, within the most skilled and compassionate manner, for every and each patient encounter.
Invisalign treatment is the clear alternative to metal braces for kids, teens, and adults.
A veneer is a permanent change used to correct tooth imperfections, such as stained or chipped teeth.
Ozone dental treatment is a natural, non-invasive therapy for many common dental problems.
Zoom teeth whitening is the quick way to brighten your smile an average of eight shades in one treatment.
Root canal is a treatment to repair and save a badly damaged or infected tooth instead of removing it.
Their general purpose is to restore a tooth or teeth back to full chewing function
Dental implants are a popular and effective way to replace missing teeth and are designed to blend in with your other teeth.
Also known as alternative dentistry, natural dentistry, and unconventional dentistry.
WHO WE ARE
Meet your Favorite North Miami Dentists
Since 2001, Beach Smile Dental has been providing first-class dental care in the North Miami area. From routine checkups to cosmetic improvements, our state-of-the-art office is equipped to deliver the latest advancements in dentistry. With over 30 years of experience, our friendly staff are committed to providing excellent customer service and a positive experience.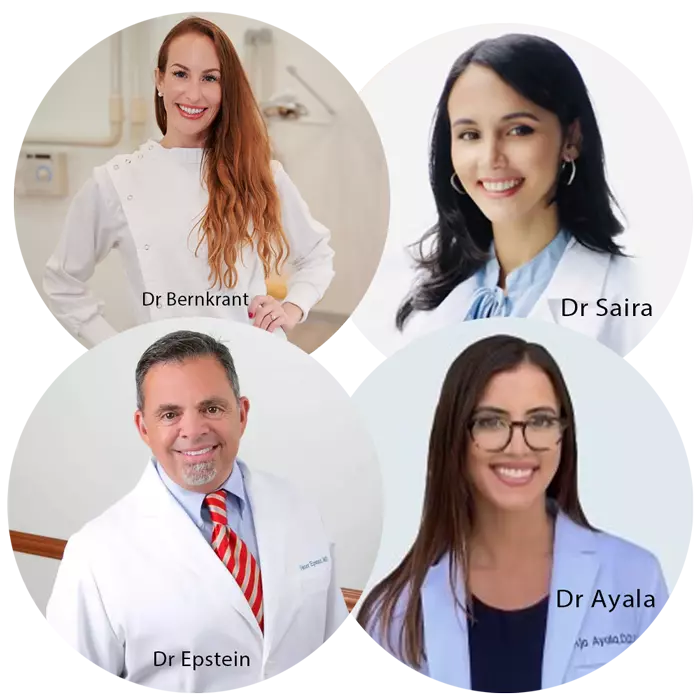 Your Comfort is Our Priority
We believe in creating strong relationships with our patients so that we can

serve them as our family.
We guarantee our work and strive for excellence in customer service by always putting our patients first. Call us today!
We want your dental experience to be stress-free, which is why we offer several easy ways to pay for your visit and we also accept most dental insurances. Whether you need help navigating your benefits or signing up for CareCredit, our team is here to help.
With our experience in different dental specialties we are able to offer customized treatments that best suits your dental needs.
Our office is furnished with state of the art equipment and maintained at the highest stantadarts to offer you and your family the best diagnostic and treatment
It will take only 30 min only
Your info is totally safe and secured
The best dentist in miami thus far. Dr Shana is professional and knowledgeable and above all a kind person who practices her profession with so much kindness. Her office is immaculate and her team members are wonderful as well, attentive, professional and on point. At the arrival of my visit I had a package waiting for me to complete and I was attended at my scheduled time. dr Shanna took her time and examined me and gave her diagnosis (all good). The dental hygienist was awesome and did a great job and also Maria the receptionist. This office has ample convenient parking and it's in a great location ! Highly recommend Beach Smile Family Dental
Best dentist and orthodontist in the business. Been with them for over 10 years!
Duke Locke
April 5, 2022.
I am absolutely delighted with Beach Smiles Dentistry from the sleek ultra-modern decor to the welcoming support staff. Their operation is extremely efficient. I have never had to wait more than a few minutes before being seen by the dentist. The support staff is professional and friendly. Most importantly of course is the skill level of the dentist. Dr. Bernkrant is the best dentist that I have ever had the pleasure to have worked on my teeth (Can you believe I'm using the word "pleasure" when referring to a dentist?!!) She is a true artist. I have always been ashamed of my smile, always hiding my teeth when being photographed. Dr. B has given me a new lease on smiling. She has spent hours at a time working to make sure that the results are perfect. I am forever in her debt. P.S. Her technique in administering numbing injections is painless!!
Morty Aroll
March 30, 2022.
El servicio fue phenomenal! Gracias beach smile
Ana Rivadeneira
March 15, 2022.
Love this office! It makes you feel so relaxed , and the doctors really make magic happen ! Dr b is amazing and her staff!
Elizabeth Perez Gomez
February 14, 2022.
I have to say the best experience I've ever had at a dental office . And everything was so clean and beautiful. My new dentist from now on!
maiber pereda
February 14, 2022.
They literally make you feel part of the family, and the best cleaning ever !
lianny arcia
February 14, 2022.
The best office in south Florida ! They make you feel like home!! The doctors and staff is amazing !
Yessi O
February 14, 2022.
Very nice and upscale office. Dr. B is the best!!! I recommend this office to any and everyone!!!
Brittney Rayford
February 14, 2022.
We are dedicated to providing you with the information you need to make informed decisions about your oral health. We believe that when patients have the information they need, they can make better choices about their care.
North Miami Dentist - Bringing life to your smile Trusted Family Dentist in North Miami, FL We believe that when we look our best, we feel our best. Our experienced and caring North Miami Dentists will help you achieve your dream smile and optimum oral health with our advanced technologies,…