North Miami Dentist – Bringing life to your smile
Trusted Family Dentist in North Miami, FL
We believe that when we look our best, we feel our best. Our experienced and caring North Miami Dentists will help you achieve your dream smile and optimum oral health with our advanced technologies, materials and procedures
Patient Care is #1
We Make It Personal.
Using the most recent technology in addition to years of expertise, Beach Smile Family medical specialty has apace evolved into one amongst the premier Dentists in North Miami, FL. Together, our doctors and employees ar committed to establishing a private relationship with our patients and providing the very best quality care, within the most skilled and compassionate manner, for every and each patient encounter.
Invisalign treatment is the clear alternative to metal braces for kids, teens, and adults.
A veneer is a permanent change used to correct tooth imperfections, such as stained or chipped teeth.
Ozone dental treatment is a natural, non-invasive therapy for many common dental problems.
Zoom teeth whitening is the quick way to brighten your smile an average of eight shades in one treatment.
Root canal is a treatment to repair and save a badly damaged or infected tooth instead of removing it.
Their general purpose is to restore a tooth or teeth back to full chewing function
Dental implants are a popular and effective way to replace missing teeth and are designed to blend in with your other teeth.
Also known as alternative dentistry, natural dentistry, and unconventional dentistry.
WHO WE ARE
Meet your Favorite North Miami Dentists
Since 2001, Beach Smile Dental has been providing first-class dental care in the North Miami area. From routine checkups to cosmetic improvements, our state-of-the-art office is equipped to deliver the latest advancements in dentistry. With over 30 years of experience, our friendly staff are committed to providing excellent customer service and a positive experience.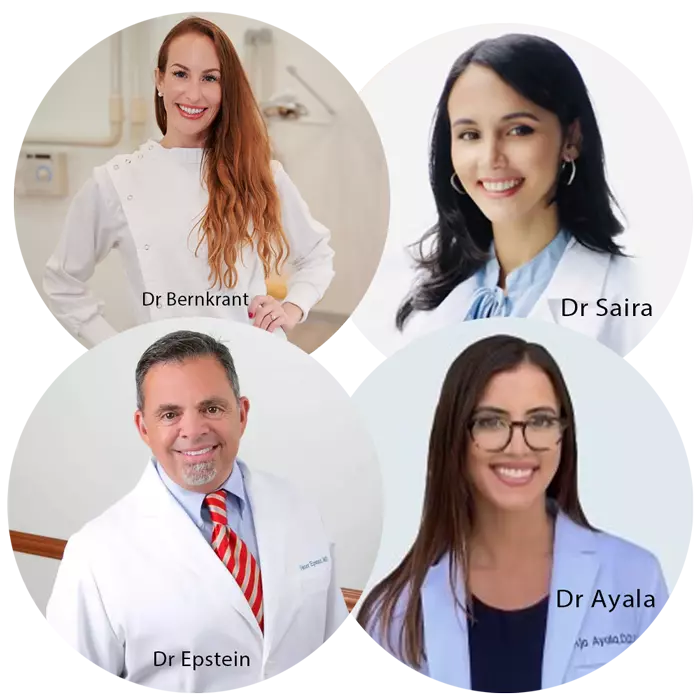 Your Comfort is Our Priority
Our North Miami Dentist believe in creating strong relationships with our patients so that we can
serve them as our family.
We guarantee our work and strive for excellence in customer service by always putting our patients first. Call us today!
We want your dental experience to be stress-free, which is why we offer several easy ways to pay for your visit and we also accept most dental insurances. Whether you need help navigating your benefits or signing up for CareCredit, our team is here to help.
With our experience in different dental specialties we are able to offer customized treatments that best suits your dental needs.
Our office is furnished with state of the art equipment and maintained at the highest stantadarts to offer you and your family the best diagnostic and treatment
It will take only 30 min only
Your info is totally safe and secured
Great from start to finish. Couldn't be happier with my sparkly clean smile 😃 ✨
Eunice Delavida
November 7, 2023.
Professional, friendly and will make you feel at home. They respect your time here - if your appt is at 10, they see you at 10, not 1030 or 11. I don't need to keep looking for a better dentist anymore- dr Epstein is it!
Lily Giraldo
November 4, 2023.
Very professional. I go there twice a year for dental cleaning and Ana is excellent. The doctor is personable. I recommend this office!
Dr. Epstein and his team have been keeping us smiling for many years. They are so amazing that even after moving out of Dade County, we still travel back and will continue to do so. HIGHLY RECOMEND THEM!
Cezare Rivero
October 28, 2023.
Maria De Carvalho
October 26, 2023.
I have been going to Beach Smile for a couple of years . Dr.Epstein and all his office staff are all amazing. Great new place with plenty parking spaces too!
eduardo hernandez
October 24, 2023.
This is by far the best dental office in Miami. The entire staff is very professional and have an excellent calming attitude. Dr Epstein is the finest dentist you will experience in south Florida. Thank you for all your help and exceptional caring. The hygienist my apologies for not remembering her name is very remarkable. Many thanks very much recommended
Joseph Massa
October 22, 2023.
Wonderful first visit as a new patient! Office is very relaxing. Office staff are so nice and helpful. Anna is a great hygienist! Dr Epstein is so kind, understanding, a super competent professional. He created a very thorough detailed plan to meet all of my dental needs, took the time to explain each step in a calming and reassuring manner. He's a gem of a dentist and this is a gem of a practice! I look forward to continuing, thank you!
Michele F
October 19, 2023.
Frequently asked questions
🌿 What exactly is holistic dentistry?
Holistic dentistry, also recognized as biological dentistry, approaches oral care considering the overall well-being of the individual. It integrates traditional dentistry with alternative therapies and often prefers using natural, biocompatible materials.
👉 Intrigued? Contact our friendly dental team in North Miami to delve deeper into how holistic dentistry can elevate your oral care journey.
🦷 What teeth whitening options does Beach Smile offer?
At Beach Smile, we provide various teeth whitening options, ensuring your smile is not only bright but also achieved through safe and holistic practices. Our choices often hinge towards methods and products that prioritize your overall wellbeing.
👉 Eager to light up the room with a dazzling smile? Contact Beach Smile, your North Miami Dentist, to discuss our teeth whitening options.
🍀 Are dental implants a viable option with holistic dentistry at Beach Smile?
Yes, Beach Smile provides dental implant options that harmonize with the principles of holistic dentistry. We opt for biocompatible materials and consider your overall health and wellness throughout the implant procedure.
👉 Let's discuss how we can restore your smile while maintaining a holistic approach. Reach out to your friendly North Miami Dentist at Beach Smile today!
😁 How does Beach Smile approach Smile Design holistically?
Our Smile Design approach at Beach Smile intertwines aesthetics with a comprehensive, health-conscious viewpoint. We meticulously ensure that every aspect of the design not only enhances your smile but also contributes positively to your overall oral health and wellbeing.
👉 Crafting smiles that radiate health and happiness is our specialty. Begin your Smile Design journey with Beach Smile, your premier North Miami Dentist.
👪 Can I get a holistic dental check-up for my entire family at Beach Smile?
Absolutely! Beach Smile is dedicated to providing comprehensive holistic dental care for the whole family, ensuring each member, from the youngest to the eldest, experiences dental wellness in its entirety.
👉 Book a family appointment with Beach Smile and experience a holistic approach to dental care with your beloved North Miami Dentist.
🦷 What should I know about Porcelain Veneers at Beach Smile?
Porcelain Veneers at Beach Smile are curated with a dual focus on aesthetic appeal and biological compatibility. We ensure that the materials and procedures utilized are in sync with our holistic dental philosophy.
👉 To explore how Porcelain Veneers can magnificently transform your smile, feel free to connect with Beach Smile, your expert North Miami Dentist.
🤍 Can Smile Restoration at Beach Smile also improve overall oral health?
Indeed, our Smile Restoration not only targets reviving your beautiful smile but also aims at enhancing your overall oral and systemic health. We utilize treatments and materials that uphold your holistic health while crafting a captivating smile.
👉 Rediscover the joy of a radiant, healthy smile with Beach Smile. Contact us, your trusted North Miami Dentist, to explore our holistic Smile Restoration options.
🌳Is Beach Smile a mercury-free practice?
Absolutely! Beach Smile is a mercury-free dental practice, in alignment with our holistic dental philosophy. We opt for materials that are not only safe but also biocompatible with your body.
👉 Your well-being is our priority at Beach Smile. Connect with your North Miami Dentist to explore our mercury-free dental solutions today.
🍃 How does Beach Smile ensure the biocompatibility of dental materials used?
We conduct thorough biocompatibility tests to ascertain that the materials used are harmonious with your body and immune system, ensuring your holistic well-being is at the forefront of all treatments.
👉 Have more questions about our materials and practices? Beach Smile, your North Miami Dentist, is here to chat and guide you through a holistic dental journey.
We are dedicated to providing you with the information you need to make informed decisions about your oral health. We believe that when patients have the information they need, they can make better choices about their care.
North Miami Dentist - Bringing life to your smile Trusted Family Dentist in North Miami, FL We believe that when we look our best, we feel our best. Our experienced and caring North Miami Dentists will help you achieve your dream smile and optimum oral health with our advanced technologies,…